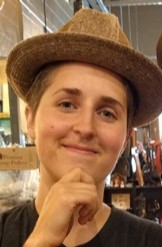 My name is Abbey, and I am a UX and UI Designer in Madison, Wisconsin. I got the bug for user experience design in 2012, and I've been passionately building skills in UX, product design, healthcare, and front end web ever since.
I work at Standard Imaging, re-designing and modernizing a suite of clinical web applications used by medical physicists and radiation therapists to ensure that patients are safely adminstered radiation during their cancer treatments.
Previously I spent seven years at Epic working on clinical radiology and mammography tools, EHR usability, community collaboration, and social media platforms.